AIG Patrick Johnson May Face Contempt of Court Charges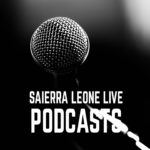 The failure of a very senior police officer to respect the order of an interlocutory injunction granted in the High Court of Sierra Leone has caused us to react with dismay and make additional demands. The police abuse of authority in the land dispute between Mohamed Fahnbulleh ( Plaintiff/Applicant) and Assistant Inspector General of Police Patrick Johnson (Defendant/Respondent) at Gbaday Town, Kerry Town has persisted since the beginning of the case and has even worsened after the High Court of Sierra Leone, under Hon. Justice Manuela A.J. Harding issued an order on 27th July 2022 instructing both parties to stay away from the land.
Despite the court order issued in the land dispute between Mohamed Fahnbulleh and Assistant Inspector General of Police Patrick Johnson in Gbaday Town, Kerry Town, incidents of police abuse of authority against Mohamed Fahnbulleh have continued. There have been frequent, well-armed police patrols and the deployment of armed officers on the land without the approval or knowledge of the judge handling the case. Anonymous sources from the Waterloo Police Station have stated that these patrols often occur after receiving a phone call from A.I.G Patrick Johnson. It has also been reported that A.I.G Patrick Johnson made an official report at the Waterloo Police Station claiming that he is facing trespass on his land.
However, it is unclear who A.I.G Patrick Johnson made the report against or if he provided any documents to support his claims. It is also unknown if the Waterloo Police Station head is aware that A.I.G Patrick Johnson is currently facing legal action on the land by Mohamed Fahnbulleh. Why did A.I.G Patrick Johnson allegedly report the land case to the Waterloo Police Station when it is already being addressed by a competent court of law? Why are there constant armed police patrols and the deployment of armed officers and irate youth on the land, despite the interlocutory injunction order from the Sierra Leone High Court? Why do police at the Waterloo Police Station continue to patrol the land without the knowledge of the court, even after Mohamed Fahnbulleh provided evidence of the interlocutory injunction order from the High Court of Sierra Leone?
The alleged actions of a senior police officer, such as the continued abuse of authority and disregard for a court order, have led to concerns about the public trust being compromised. Police departments in Sierra Leone have policies in place that outline appropriate conduct for officers and regulate the use of police power. These policies should not be disregarded by police departments or their leaders, as they are in place to uphold both department policies and constitutional standards. While there is generally accountability for acts of abuse of office and other forms of wrongdoing within police departments, it appears that there is little to no accountability for those who allow such an environment to persist. It is unclear how a few policemen were able to disobey a court order without the knowledge of their supervisors or other department officials within the Sierra Leone Police Force. Even individuals with good intentions can make poor decisions when placed in the wrong circumstances. Poor supervision, intense peer pressure, and an organisational culture that sends conflicting messages can lead honourable men and women to behave in dishonourable ways.
Police departments, like corporations, universities, labor unions, and government agencies, face the challenge of creating a culture that promotes the balance between achieving organisational goals and upholding fundamental principles of decency and fairness. Values within the Sierra Leone Police Force are not only outlined in documents but also derived from traditional police culture. However, there is often a disconnect between policies and practices, and a lack of proper monitoring and response from police management. If current police leadership does not actively work to establish a culture of integrity and accountability, officers may continue to develop their own, potentially harmful, culture.
The alleged actions of A.I.G Patrick Johnson highlight the importance of strong commitment from police leadership to uphold democratic values and prevent abuse of office practices. Police administrators should implement and enforce policies that regulate conduct, as well as systems for collecting and analyzing data on police-citizen interactions such as complaints of abuse of power and use of force incidents. This information can inform policy, guide recruitment, and training, and promote accountability to restore and maintain public trust in the police. It is often a lack of internal controls rather than individual officers that allows for problems of misconduct and abuse of power to persist within police departments. While it is important to recognize that most police officers in Sierra Leone are honest and dedicated public servants, it is also important to acknowledge that they, along with the public they serve, can be victims of misconduct by their colleagues. The police have a significant amount of power and influence in the lives of Sierra Leonean citizens, and it is crucial that they use this power responsibly.
The way in which police officers respond to and interact with citizens, including their respect for the law and the methods they use to enforce it, has significant consequences for democracy and the quality of life for citizens. As Jerome Skolnick states in his essay On Democratic Policing, "Order achieved through democratic policing is concerned not only with the ends of crime control but also with the means used to achieve those ends." It is important to consider whether police abuses are inevitable in the pursuit of crime control and to examine the views of police officers on issues such as the code of silence, whistle-blowing, and the influence of class on police behavior. Additionally, it is important to explore effective ways to prevent abuse of authority by the police.
This case will offer insight into the views of Sierra Leone's police officers on issues of abuse of authority and other important questions.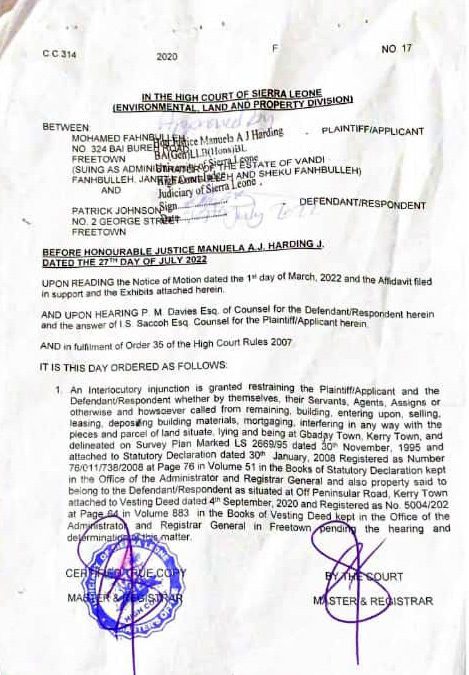 Download the pdf version of the court order below
IN THE HIGH COURT OF SIERRA LEONE
Attempts to obtain AIG Patrick Johnson's perspective on the matter were unsuccessful.