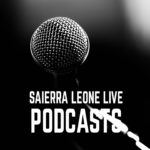 By Mahmud Tim Kargbo
When will our rulers learn?
If you owned a bank, would you loan money to an entity that you know does not really need the money and is neck deep in fraud?
No!
Unless there are "strings attached" and you are really not loaning out any funds but merely signing documents to ensure that whilst the entities descendants are perpetually indebted, the entire team 'packaging' the 'loan' scam, privately rake in millions in 'consultancy fees' and other bogus payments.
In the interim, resulting from the 'disappearance' of the loaned funds from the World Bank and International Monetary Fund, our maternal mortality ratio remains one of the worst globally, we continue to bury millions of our under-5 children who die of preventable causes, our power sector remains epileptic, our youth remain uneducated, unemployable and hopeless. Yet the World Bank and IMF are saying they are in Sierra Leone and other West African countries to fight poverty and sustain democracy. If after blocking leakages the Sierra Leone government raised 156 billion Leones in just two weeks and paid salaries and backlogs of salaries and efficiently meet other financial commitments without overdraft why accept rogue International Monetary Fund Structural Adjustment Policies that ordered the government to add Value Added Tax on all essential commodities to sustain abject poverty in the lives of the already suffering majority?
The continued penchant of the World Bank and the International Monetary Fund to dish out loans to the Sierra Leonean contraption and other West African governments knowing full well that Sierra Leone and other countries in the sub-region don't need to borrow such monies and that the kleptocrats holding sway over Sierra Leone and other West African governments will merely steal the monies and dump same back into offshore bank vaults is most wicked!
Knowing how pure our maximum rulers in West Africa are; and
Knowing how mercurial our Finance Ministers are; and
Realising that Sierra Leone Financial Secretary was the government loan adviser of the Millennium:
Right-minded nationals will bet that resulting from the fictitious and fraudulent loans advanced to Sierra Leone and other countries in West Africa by the Breton Woods institutions, some very odd smart alecs with NO nationalistic sense of purpose ruling over us and some World Bank and IMF staffers involved with the Sierra Leone country portfolio and other nations in West Africa are all U.S.$ multi-millionaires!
Hahaha!
No wonder West Africa Finance Ministers are always very willing to sit on the same podium with rogues of neo-colonial financial institutions and being humbled like naughty school-going pupils and their headmaster, but not right-minded nationals from their various countries that are determined to protect the suffering majority from the very exploitative principles of West Africa Finance Ministers headmaster (IMF/World Bank). In short, West Africa Finance Ministers are saying they're only answerable to the IMF/World Bank, but not to the people that voted their governments in power. This means IMF/World Bank are seriously undermining democracy in West Africa with their support for governments that aren't accountable to their people, but to the IMF/ World Bank only.
Some right-minded nationals in West Africa verily believe that the World Bank is seriously being short-changed and should rise up to the occasion and cleanse its activities in Sierra Leone and other West African countries.
Corruption kills.
Large-scale Corruption is a crime against humanity.
Corruption compares with mass murders, rape and other crimes against humanity.