Sierra Leone's Radio Luminary: Josiah Paris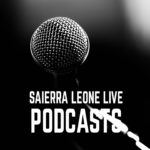 On World Radio Day, we celebrated one of Sierra Leone's most illustrious broadcasting icons, who is a household brand name. Josiah Paris' name echoes quality broadcasting and media excellence in every corner of Sierra Leone and the diaspora.
Paris' meteoric rise to broadcasting stardom began during the harrowing days of the Sierra Leone civil war at Radio Democracy, where he honed his God-given talent. He interviewed everyone from the President of Sierra Leone, Pa Kabbah, and his ministers to UN agencies, heads of parastatals, key players in the war, police, military, and even the rebel leader, Foday Sankoh. All this he masterfully executed on his program called Security Talk, which was a Sunday 1 pm-3 pm delight for Sierra Leoneans who even took their radios to church not to miss it. He was the first to host the first UN media team in Sierra Leone, Margrette Noviki and Peter Koper.
Paris' unmatched broadcasting prowess has over the years given birth to a well-attended event called "Oldies Dee Goodies," which he has organized in Freetown for 20 consecutive times, making it the best entertainment event in the city. This year, the 21st edition will hold on April 27th at Family Kingdom. He has run the event successfully with no security risks to attendees or the event itself, proving himself the best event organizer in Sierra Leone. The event has been held six times in Bo, once in Kenema, and for the second time in Makeni.
This year's International Women's Day celebration on March 8th will lead all roads to Makeni for Oldies/Youngies Dee Goodies, taking place at the Makeni City Plaza, featuring a live dance band performance, live Makeni artist stage performances, Buga and Tumba Dance, stand-up comedy, and many other entertainment options to bring smiles to the faces of Makeni's people, just like Paris' Oldies/Youngies Dee Goodies event always does.
Let us all join in celebrating Josiah Paris today and never grow old, as Oldies/Youngies Dee Goodies await us on March 8th. Don't be late; we shall meet at the gate at 8 sharp. See you then!