Tourism Ministry Conducts Assessment Visit on Tobanda Beach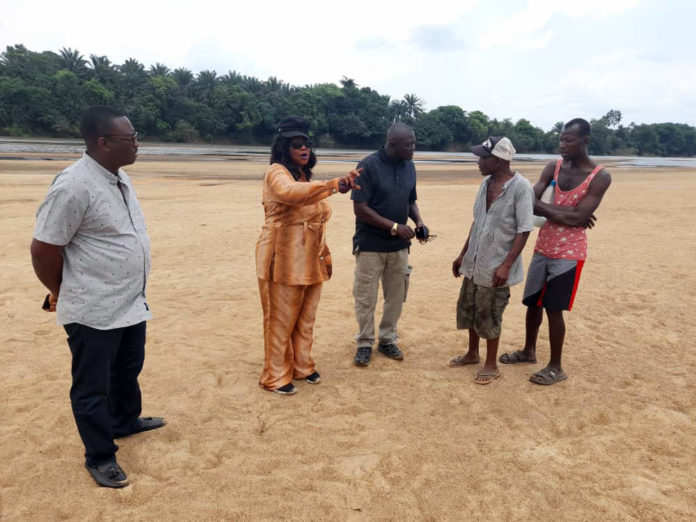 The Minister of Tourism and Cultural Affairs, Dr. Memunatu Pratt, her deputy, William I.K. Robinson and the Permanent Secretary, Andrew Sorie have visited Tobanda Beach in Bonthe District in order to get firsthand information in order to determine the utilization of the beach as one of the Ministry's attraction sites in the South.
Tobanda Beach is located in Tobanda Village, Gbandakemoh Chiefdom, Bonthe District. The village is a fishing community where people from different ethnic groups do their fishing business. The beach was discovered in 2019.
Assessing the beach, the Minister noted that President Bio has declared the Southern Region as a tourism development area, implying that the Ministry is making frantic efforts to visit areas that have not be visited before in order to see what government can do to develop those areas.
She said the beach is vast with enormous potentials for recreational activities and sport tourism.
She maintained that the beauty of the beach is that sometimes it is a bit dry which she said they will market for seasonal use.
She continued that the beach has quantum of opportunities for tourism with regards to the vegetation around the beach.
She concluded that the community stands to benefit a lot once people start exploring the beach.
The deputy Minister, William I.K. Robinson said that the seasonal beach has been used for outings and community activities.
He added that the beach is ideal for tourism because of its green vegetation, fresh water and different species of fish and birds.
He assured that once the resources are available, the development and utilization of the beach will commence.
The Permanent Secretary said the Ministry is excited to give Tobanda beach the attention it deserves by opening it for tourism.
He stated that the beach has multiple tourism focus ranging from sports to leisure, plus the expansive sand nature of the beach and that the Ministry is looking to market the beach by creating the access to the community.
Alieu Kondoh
Information Officer
MTCA
+23276688755
Email:[email protected]