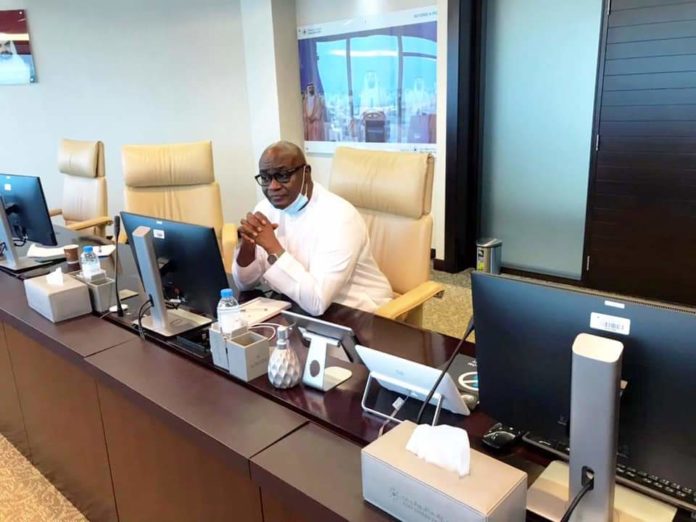 Abu Dhabi, United Arab Emirates, Tuesday 2 February 2021
Sierra Leone's Ambassador to the United Arab Emirates, UAE, Rashid Sesay, has met with Authorities of the Abu Dhabi Ports to discuss issues relating to the development of the Ports and Maritime sectors in Sierra Leone.
Situated in Abu Dhabi, Capital of the UAE, Abu Dhabi Ports is a provider of world-class integrated ports and industrial zone services and acts as a business enabler to provide vital infrastructure for the global maritime industry. They also provide a host of marine services to support the maritime industry, using the latest ports equipment.
During his presentation, Ambassador Sesay said that he was engaging the leadership as a way of fostering partnership and collaboration between the Abu Dhabi Ports and its Sierra Leonean counterparts. He added that Sierra Leone and the UAE had established a very good relationship, noting that there was a need to further collaborate through investments for the good of the two nations.
He also mentioned that Sierra Leone was losing a lot through illegal fishing and other unauthorized activities in its waters and added that the small-West African nation would welcome collaboration in the area of surveillance equipment to monitor its maritime activities.
"Working with you and tapping from your experience will help us develop our Ports and Maritime sectors, especially with skills transfer and equipment. We also need training for our people in maritime and ports service managements," he said.
On his part, Acting Head of Maritime Cluster at the Abu Dhabi Port, Captain Maktoum Al Houqani, said that they had an expertise in maritime and ports management through using the right technologies and processes, in which they would be ready to work with Sierra Leone.
He noted they had the capability as well as the willingness to invest and a strong commitment to support the Government of Sierra Leone. He also added their objective was to invest in tangible developments in the ports management in Sierra Leone and also expressed interest for exchange visits with their counterparts to explore further ways of cooperation.
For More Enquiries:
Mohamed Massaquoi
Information Attaché, United Arab Emirates
+971 50 208 9695
Email: [email protected]