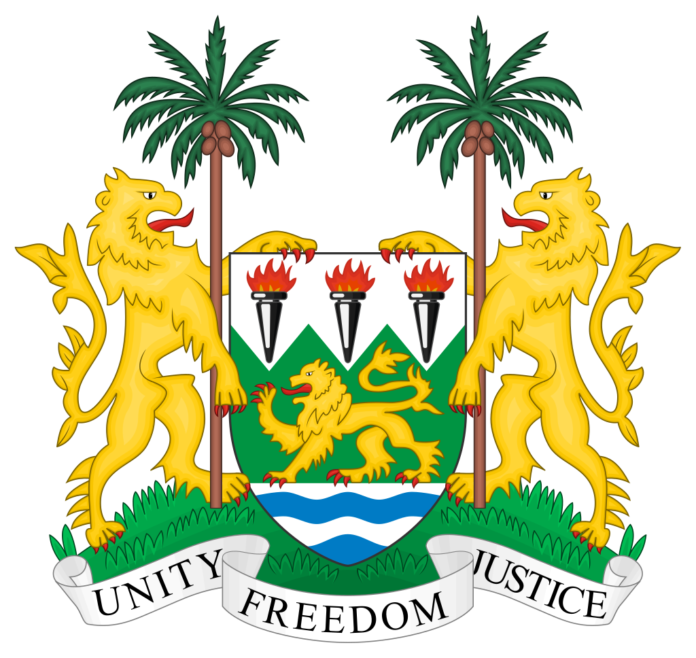 Sierra Leone have produced six(6) official first Ladies in our history, Remove the political Len's read through this piece and make your Judgement objectively.
H.E Fatima Maada Bio Top the List as the best in terms of Project initiatives & achievement in the office of first lady of the Republic of Sierra Leone ..
Written by Fofana-Fofana & edited By Dr. Paul Belley Khanu in US)
1, Her Excellency Madam Rebbeca Steven's as a first lady From 21st April 1971 to 28th November 1985
2, Her Excellency Madam Hannah Momoh as a first lady from 28th December 1985 to 29th April 1992 .
3, Her Excellency Madam Patricia Kabbah as a first lady from 29th March 1996 to 1998 .
4, Her Excellency Madam Isata J Kabbah as a first lady from 1998 to 17th September 2007 .
5, Her Excellency Madam Sia Nyuma Koroma as a first lady from 17th September 2007 to 4th April, 2018 .
6, Her Excellency Madam Fatima Maada Bio as a first lady from 4th April 2018 to current date ..
Top three(3) First Ladies and educational Background ..
Her Excellency Madam Fatima Maada Bio born on 27th November 1980 in Kono district, Attended the Ansarul Islamic Primary School, later moved to St. Joseph's Senior Secondary School in Freetown, She holds Bachelor of Arts with Hons degree in Performing Art in London .
Her Excellence Madam Sia Nyuma Koroma Born in Kono district on March 19th, 1958. attended the Annie Walsh Memorial Senior Secondary school Freetown, She holds Degree in Biochemistry, Master of science degree in Synthetic organic chemistry in UK .
Her Excellency Madam Patricia Kabbah Born in Bonthe district on March 17th 1933, Attended St. Joseph's Senior Secondary school Freetown, She holds Bachelor Degree in English in Toledo Ohio, Master Degree in French Language in Chicago USA ..
All the above first Ladies are rated based on their Performance and Achievement as first Ladies during their term of office as first Ladies of the Republic of Sierra. The current first lady Fatima Maada Bio is the youngest and most popular first lady base on her projects initiatives with implementation ..
The title first lady held by female spouse of the president of Sierra Leone, the first lady is a Representative of the people of Sierra Leone both home and abroad..
The office of the first lady is an extension of STATE HOUSE and is responsible for the social events and ceremonies at State house-Lodge..
Since 1971 Sierra Leone has had Six(6) first Ladies,
the first was Rebbeca Steven's , wife of former President Siaka Steven's, who remained at her family's private residence at King Harmar Road while her husband lived at state House and Kabasa Lodge. Madam Rebbeca Siaka Steven's normally accompanied her husband to few ceremonies events and preferred to keep low profile.
The Second firs Lady
H.E Madam Hannah Monmoh wife of former President Joseph Saidu Momoh was a low key figure who never under takes any development activities true out her tenured in office as a first lady. During Madam Hannah Momoh tenured as first lady she stayed with her Husband Joseph Saidu Momoh at Wilberforce road. However, when the extent of her husbands infidelities came to light, she left him and moved to London in 1989.
Sierra Leone's third(3rd) first lady was one of the country's foremost Lawyers Madam PATRICIA KABBAH.
Madam Lawyer Kabbah had been the chairperson of the committee that restored Sierra Leone to civilian rule and she helped redraft country's constitution in 1995 when her late husband Dr. Ahmed Tejan Kabba won the election, she sought to set up the first office of the first lady in history of Sierra Leone. Her husband pushed into pressured from Stalwarts in the SLPP party and denied her request. Later in 1998 Patricia Kabbah died of Cancer.
Shortly, after her death her husband Late Dr. Ahmad T Kabba married Madam Isata J. Kabbah.
The 4th first Lady was H.E Isata Jabbie Kabbah took over late Patricia Kabbah who died in London from cancer until she occupied the office of the first Lady till 2007, yet still the office of the first lady was completely dormant with know developmental initiative activities.. Isata Jabbie Kabbah forced herself into the internal politics of the SLPP and created so many enemies, which sh later joined the NGC ahead of 2018 elections when the SLPP regained power…
In 2007, Madam Sia Koroma, a Biochemist and Psychiatric Nurse became the 5th First lady of Sierra Leone. Madam Koroma successfully established the office of the first lady and completely redefined the role, Her husband former president Dr. Ernest Bia Koroma never gave her the full support to make the office of the first lady useful. Madma Koroma worked on three (3) initiatives, the WISH to support mother's and children, FLAXIX to provide training, and the DANKE Koroma foundation, her husband Ernest Bia Koroma refused to support and grants her request to implement her development agenda for the office of the first lady, which left the office of the first lady less important and unpopular to majority of Sierra Leoneans..
Two years to the national election Former first lady Madam Sia Nyuma Koroma was know were to be seen with her Husband Former president Dr Ernest Bia Koroma in official events as first lady, She later decided to keep low profile because her husband failed to creates the platform for her to implement most of its pending projects.
The current first lady of Sierra Leone Madam Fatima Bio, wife of President Julius Maada Bio who took over office 4th April 2018,
Madam Fatima Maada Bio clearly established the office of the first lady and made it very popular and useful with plenty developments activities which captured the eyes of so many Sierra Leoneans about the important of the office of the first lady…
On December 8th 2020, First lady Fatima Maada Bio officially opens the Newly constructed Rainbow Center of Excellence in Bo District, Giving and over view of the rainbo center and its activities, the Director of the institution Daniel Kettor expressed their deepest appreciation to Madam First lady for her timely Intervention and unwavering support and commitment to the fight against Rape in Sierra Leone..
In 2018 at the Commonwealth head of Government meeting in London, the Queen of England was excited to meet with the Newest first lady. The Queen was expressed with her tenacity in helping to change the perception of the role of women in politics.
On September 25th 2019, First Lady Madam Fatima Maada Bio Launched the Hands off our Girls campaign at a High Level meeting on the margin of the 74th United Nation General Assembly (UNGA)
Sierra Leoneans let me list down the achievement of H.E Fatima Bio 2years in office as First Lady…
1, LUNCHING OF THE HAND'S OFF OUR GIRLS PROGRAM ALL OVER THE COUNTRY..
2, ESTABLISHED RAPE/SEXUAL ABUSED COURT FOR THE UNDER AGE/MINOR..
3, LUNCHING OF SANITY PAD FOR SCHOOL GOING PUPILS ALL OVER THE COUNTRY…
4, NATION WIDE FOOD BASKET DONATIONS.
5, EXTENSION OF CHILDREN'S WARD KOIDU GOVERNMENT HOSPITAL..
6, DONATION OF SCHOOL CHAIRS TO FOUR(4) PRIMARY SCHOOLS INCLUDING HER FORMER SCHOOL ANSARUL ISLAMIC SECONDARY SCHOOL KOIDU..
7, DONATES ONE HUNDRED AND FIFTY MILLION LEONES TO THE NATIONAL POLICE WIFE DEVELOPMENT ASSOCIATION FUND..
8, DONATES LARGE QUALITY OF MEDICAL EQUIPMENTS TO THE 34MILITARY HOSPITAL.
9, FEED THE ENTIRE SCHOOL GOING PUPILS AT SAINT LUCK'S PRIMARY SCHOOL WILBERFORCE..
10, CONSTRUCTION OF SIX(6) CLASS ROOM PRIMARY SCHOOL IN SWEGBEMA.
11, CONSTRUCTION OF 100BED @34 MILITARY HOSPITAL.