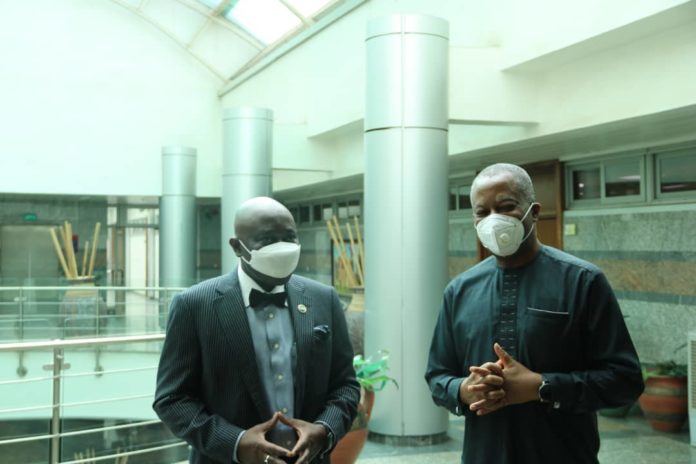 Sheku Tanga
Information Attaché
Sierra Leone High Commission
Abuja, Nigeria
Plenipotentiary, ECOWAS Permanent Representative and Commissioner of the Sierra Leone High Commission in Nigeria, His Excellency Dr Solomon Momoh Christopher Gembeh Sr. and a cross-section of the Diplomatic staff on Thursday 18th February, 2021 ended a diplomatic briefing with the Minister of Foreign Affairs of the Federal Government of Nigeria Geoffrey Jideofor Kwusike Onyeama.
Briefing the Minister, High Commissioner Gembeh first congratulated the Federal Government of Nigeria on behalf of President Bio and the Government of Sierra Leone for the successful landing of their candidate Bankole Adeoye to the Africa Union position of Commissioner for Political Affairs, Peace and Security.
He said Nigeria as a bigger nation within the sub region has played very important part to maintain peace and security and hoped that more will be done as they are now at the helm of affairs in terms of the maintenance of peace and security at the African Union.
Commissioner Gembeh, in his briefing, also figured out Sierra Leone as one of the major beneficiaries in terms of support from the Federal Government of Nigeria, especially during the interregnum wherein they provided adequate military support to end the civil war and restore peace and stability in the country.
He said that the rationale of the visit was to respond to allegation of the Federal Government of Nigeria that banking institutions owned and managed by Nigerians are under social media attacks in Sierra Leone, something that has caught the attention of the Federal Government.
He said if the allegations are fact based then it could have been propelled by detractors and may be other banking institutions for competing interest. He added that the central Bank of Sierra Leone has very close collaboration with Nigeria banks and that relationship will continue on a fruitful ground.
Referencing the Bank Governor of Sierra Leone, Commissioner Gembeh said that "Nigerian banks are of very good standings and are major players among other financial institutions that are boosting the local economy due to the employment opportunities created for Sierra Leoneans".
On behalf of the President of the Republic of Sierra Leone, Dr Julius Maada Bio, High Commissioner Gembeh assured the Foreign Minister and the Federal Government of Nigeria a strong determination to deepen and consolidate the already existing bilateral ties both countries are currently enjoying.
On his part, the minister of Foreign Affairs of the Federal Government of Nigeria, Geoffrey Jideofor Kwusike Onyeama first appreciated Sierra Leone for the sacrifice made to support Nigeria for the position of Commissioner for Political Affairs, Peace and Security at the Africa Union. He assured that Sierra Leone has a lot to gain in compensation for backing Nigeria adding that they will ensure collectiveness in working towards maintaining peace and security in the sub region and Africa at large. He promised to take forward concerns projected by High Commissioner Gembeh for further engagements.
The minister and the High Commissioner had a closed-door engagements at the end of the briefing