Sierra Leone Wrestling Match Turns Political Battleground Ahead of June 24 Elections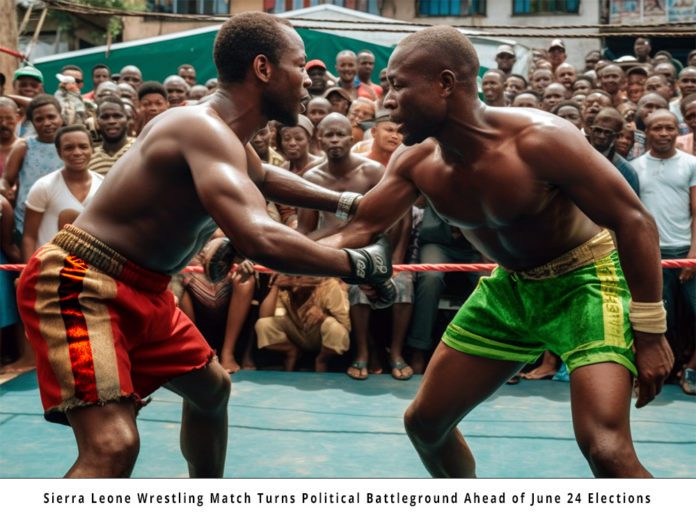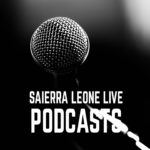 By Bhai Dhawa Sesay
Two local guys from opposing political parties are involved in a fierce wrestling fight in the center of Sierra Leone, which has captured the attention of the entire country. As the country gets closer to the crucial June 24 elections, the show, which has gathered throngs of men, women, and children, has taken on a deeper meaning.
The first man is a strong supporter of the All People's Congress (APC). He wears red shorts and looks determined to win the battle. His rival, a devoted supporter of the Sierra Leone People's Party (SLPP), is just sporting a pair of green shorts and is equally determined to win. Their facial expressions and body language convey the intense competition between their separate parties, as well as the high stakes of the game.
The crowd cheers, dances, and claps to support their chosen political party as the wrestlers compete for supremacy. There is a sense of expectation in the air, as though the conclusion of the wrestling bout could foretell the fate of the impending elections. Many people question if the country is indeed getting ready for a "Vote Not Fight" campaign because the barriers between politics and sport have become increasingly blurred.
High-ranking politicians from both parties have attended the event, heightening the excitement as they hope to see their candidate win. But, as they watch the bout take place, the politicians appear to be more focused on the bragging rights that a victory would bring to their tribe, political party, or region than on the destiny of the individual wrestlers.
This wrestling match, which represents the political atmosphere in Sierra Leone, raises concerns about the influence of regionalism and tribalism on the nation's politics. Sierra Leoneans are being urged to set aside their differences in order to ensure a peaceful transfer of power as the country gets closer to its elections on June 24.
The enthusiasm of the fans and the intensity of the wrestling battle, however, show that obstacles may lie in the way of achieving oneness. This incident stirred up a lot of anger, which is a stark reminder of how deeply divided the country's political scene still is.
It would be interesting to watch if teamwork and fair play will win out as the game nears its conclusion, providing a good example of the impending elections. Sierra Leoneans are keeping a close eye on what's going on, hoping that a peaceful end will help their country move forward.
The wrestling match is ultimately more than just a contest between two men; it is a symbol of the nation's quest for peace, cohesion, and advancement. The aim is that the lessons acquired from this amazing event would spark a new age of political stability and harmony in the country as Sierra Leoneans cry "Vote Not Fight" and "Let peace reign."