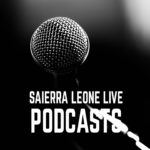 First published on Tuesday, October 29, 2002 – Sierra Leone Live
Ombudsman Francis Gabbidon has said that Sierra Leone will never catch up to compete effectively with other African countries while its economy continues to be dominated by non-Sierra Leoneans.
There is no way we can develop this way. The Gambian economy is dominated by Gambians, and the same for Ghana, Senegal, Nigeria and Guinea.
"I think this is the time to take hold of this country economically. Otherwise, we'll continue to be poor and the country can never develop," Gabbidon said.
The Ombudsman said despite having political control of the country but those that have dominance over the economy will have the power to influence the exchange rate, dictate the role and "virtually paralyse the country."
"We love foreigners but we must be in control. Whether you like it or not, the one that controls the economy has so much power he used to influence the exchange rate, goods entering the country, dictate the roles and virtually paralysed the country," he said.
Gabbidon said local people with good initiative should be encouraged to develop their potential and contribute to the development of their own country. The Ombudsman also expressed concern over the dominance of foreigners in all workplaces across the country.
He said some international organizations in the country-recruited staff from outside, while Sierra Leonean graduates who are equal to the task, are left without jobs. He said most of these foreign workers are only asked to pay 200,000 Leones as a work permit, which he describes as ridiculous. "As a matter of policy, I will have to call on Labour and take it to the minister to look at the whole question of immigration into the country.
"That's why Ghana and The Gambia are asking for $5000 for foreign workers because you cannot just bring people there to work. But here people came from all parts of the world and only pay 200,000 Leones.
"It's ridiculous and a joke, instead don't ask them to pay," he said.
Gabbidon said all foreigners, before taking up a job here should be asked to pay not less than 5 million Leones as it's a worldwide phenomenon".
He expressed dismay over the alarming number of foreigners in the country and therefore called on the immigration authorities to begin putting up some restrictions on people entering the country. Gabbidon said certain structures must be put in place to improve the private sector so that more workforce could be absorbed, production and export will be affected thereby enabling us to earn good foreign exchange, in return have a good balance of payment.
"These are the basic things. Our economy does not improve because we are so import oriented. All the time we import and spend too much in foreign exchange,"
Gabbidon observed.