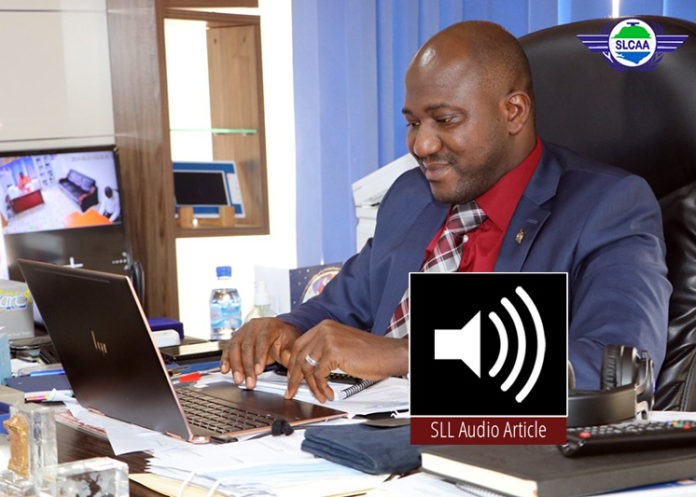 23rd February 2021
SLCAA Conference Hall
Sierra Leone Civil Aviation Authority (SLCAA) has on a ZOOM Video Conference discussed a possible partnership with the United Aviation Technology Services (ATS) in a bid to build staff capacity and improve on delivery.
Giving a brief history of the company and the work of the company, the Executive Manager of United ATS, Captain Reda El-Madbouly said that ATS was the first Egyptian Private Company to provide Aviation Technology Services in the Middle East and Africa, with over 18 years of history.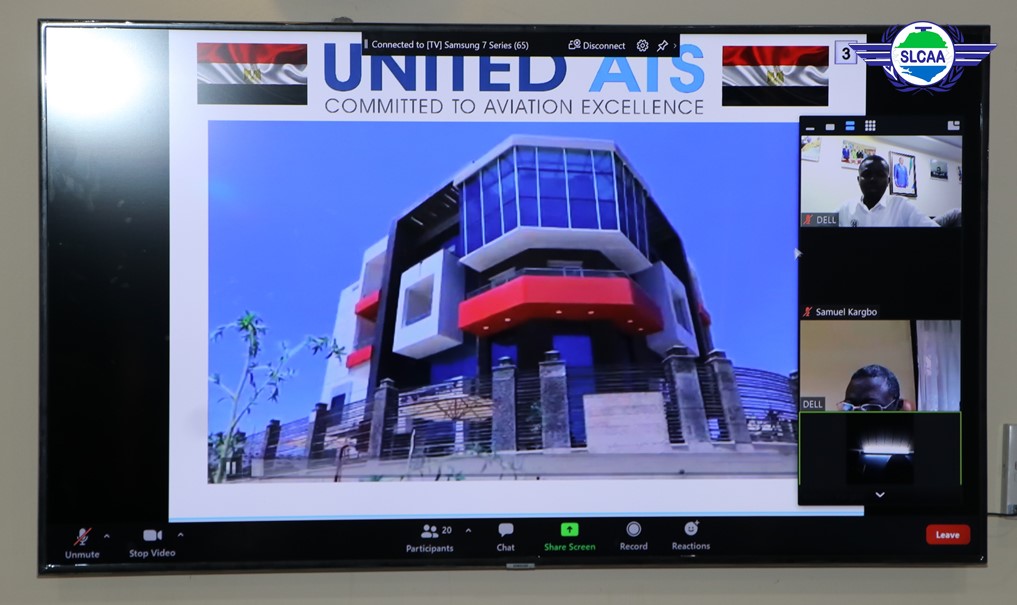 "United ATS plays an integral part in aviation safety by providing competent and professional services which comply with international standards. We had supported many private companies, governments and military authorities to optimize and enhance their Airspace and increase their capacity. we have also provided all related services for Airport certification," he revealed.
Captain Reda El-Madbouly also stated that United ATS has been a regional supplier of high added-value Aviation Technology Services and that they are an Aviation Technology Leader in more than twenty countries. "We are open to any form of cooperation and support needed by the SLCAA," he ended.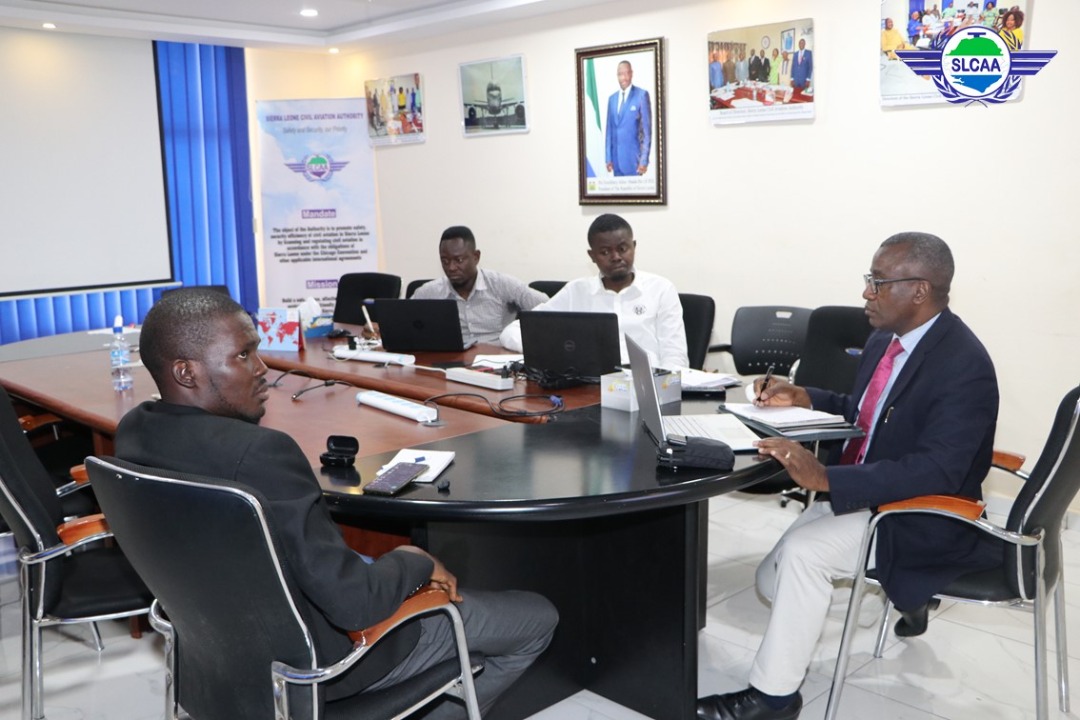 The SLCAA Director-General, Moses Tiffa Baio, in his response, extended thanks to the Sierra Leone Embassy in Egypt for facilitating the meeting between SLCAA and United, adding that the SLCAA was very much grateful for the assistance provided by the Sierra Leone Embassy in Egypt. He disclosed that this was not the first time the SLCAA had been in contact with United ATS.
"Before, Sierra Leonean personnel from both the Civil Aviation Authority and the Airports Authority have benefited from United ATS training, so what we are having today is just to make sure that we formalized our relationship for a very good technical corporation that will enhance the capacity of staff from both the SLCAA and SLAA," DG Baio emphasized.
DG Baio further requested that the United ATS certificate issued by the Egypt Civil Aviation Authority should be accompanied by the other documents that are to be forwarded to SLCAA.
"Yes, we note that you are part of the Training Plus Programme from the International Civil Aviation Organization (ICAO) and you have received a certificate of recognition from other CAAs. Given that you are an agency within Egypt, we expect that you have a certificate from the Egyptian CAA," DG Baio concluded.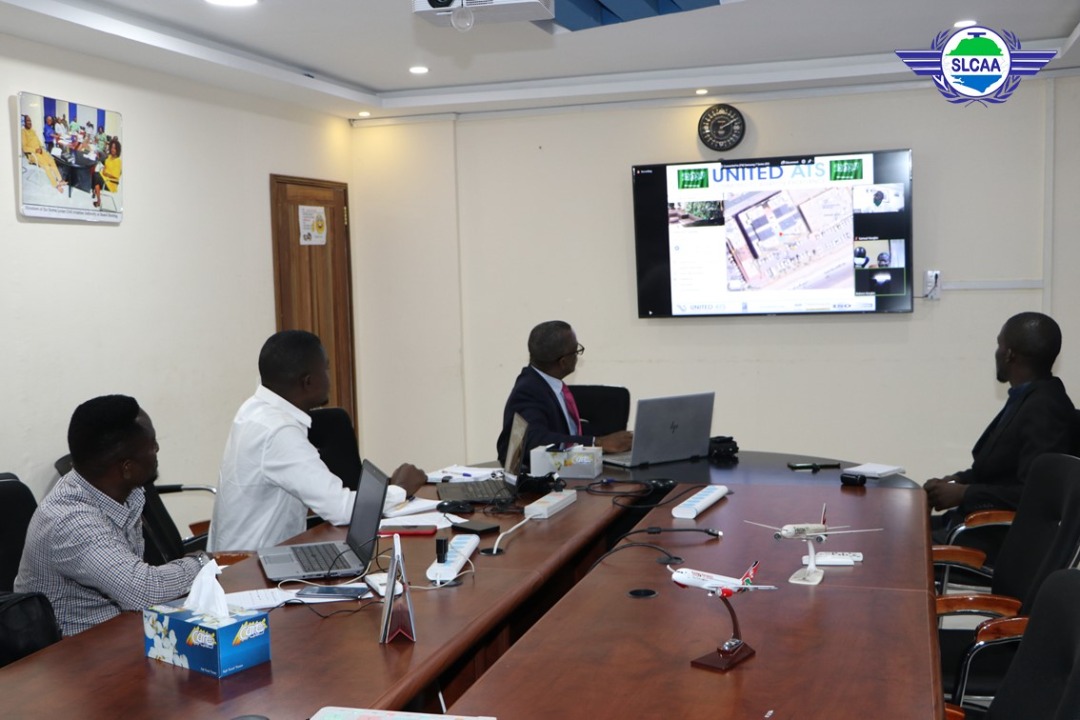 Sierra Leone's Ambassador to Egypt, H.E Dr Morie Fofana, commended both the SLCAA and United ATS for such an initiative. He disclosed that it took the Embassy time to facilitate such a meeting.
"I hope that this discussion will move forward and it will certainly be a success story for both parties. As an Embassy, we will continue to give the necessary support as and when needed," the Ambassador reiterated.
The meeting resolved that an M.O.U should be developed and later signed between the two organizations.
©️SLCAA COMMUNICATIONS