The Kid from 105 Circular Road, Freetown, Sierra Leone, in Moscow on a mission
by Lloyd Randall:
Intro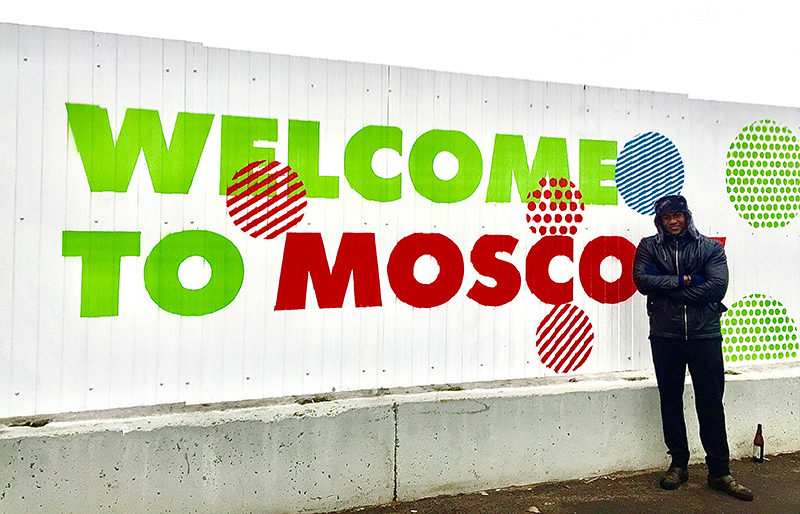 In November 2017, I arrived in Russia to embark on a journey that I will never forget. I was on a mission to do a documentary in 11 Russian cities in the space of 35 exhilarating days.
Growing up as a kid in Sierra Leone, I always looked forward to major sporting events, like the African Cup of Nations, the Olympics, the Euros, the football World Cup, Tennis Grand Slams and much more. I spent a lot of time watching these events, much to the chagrin of my dad, who felt I would be better off studying.
So when my boss asked me to go to Russia to do a documentary for the World Cup that was to be held there, I was ecstatic. My first taste of football's biggest spectacle was in 1994 when, as a young kid, I watched the World Cup in the United States on TV.
It was love at first sight. And here I was, on my way to cover my first World Cup. The kid from Freetown who dreamed about watching the World Cup live was on his way.
Privet/kushe/你好- World Cup Trekker
I arrived in Moscow with a camera crew and a couple of producers on November 8th, 2017. The aim of the documentary was to give African viewers a panoramic view of the preparations for the World Cup. The documentary, entitled 'World Cup Trekker', covered aspects such as Russian history, culture, cuisine and stadiums. It also provided vital information to fans travelling from Africa to support the five nations that had qualified for Russia 2018. Those countries were Nigeria, Senegal, Tunisia, Egypt and Morocco.
I travelled to Moscow, Nizhny Novgorod, Yekaterinburg, Samara, Sochi, Kaliningrad, Rostov-on-don, Volgograd, St Petersburg, Kazan and Saransk.
Kremlin, guns and chocolate
When I arrived in Moscow, I was immediately taken aback by the vast expanse of land, peppered with sprawling skyscrapers. I had imagined Moscow as an old, dilapidated city, crawling with spooky KGB spies. What I saw instead was a cosmopolitan city with high-end luxury stores and museums galore.
The highlight of my trip to Moscow was visiting Red Square, close to the Kremlin. The historical and political significance of Red Square is well documented. I had always felt Russia had only one Kremlin, but I soon realized there are Kremlins in other cities across the nation.
I was also a bit astonished that young Russians were more open-minded than I had envisaged. Many approached and spoke to me in an amiable manner using the little English they could muster. I had honestly expected a more frigid welcome.
My late uncle, who has two half-Russian daughters, and my elder sister both studied on scholarships in the former Soviet Union and they spoke of racist experiences they dealt with when they were there.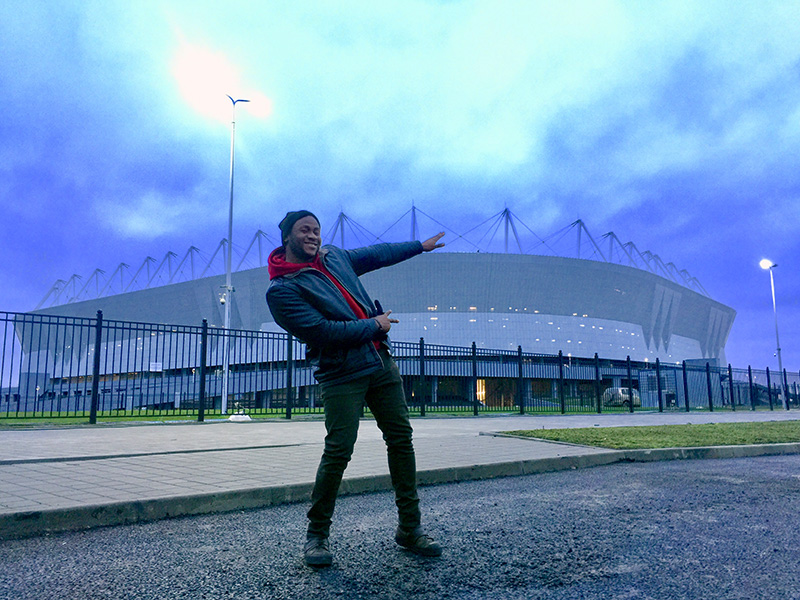 On a hectic day that also included visits to a famous chocolate factory, Moscow University and the Luzhniki Stadium, our last stop was a firing range.
Growing up in Sierra Leone during the civil war, the sound of gunfire always brings back some traumatic memories. My Chinese co-host opted for an AK47 and I settled for a crossbow. I am all too familiar with the sound of an AK47. It was all too familiar when I was growing up, so I settled for something less traumatic.
I had a fun time in Moscow and it definitely exceeded my expectations.
The Trauma of January 6
My trip to Volgograd was by far the most emotional. I am an avid student of history and a consumer of documentaries. I have read extensively about the battles that raged in Stalingrad (now Volgograd), as Hitler's army, deploying blitzkrieg tactics, almost overran the Soviet Union. That could have led to a seismic shift in the outcome of the Second World War had the German forces prevailed. Stalingrad was the bulwark and ultimately, the demise of Hitler's war machine commenced there. The loss of human life was colossal and unfathomable.
When I visited the Mamuyev Kurgan statue and saw the names of the deceased engraved on the marble walls, I broke down in tears.
As a kid, I witnessed several coups d'etat, a military junta, an interregnum and a bloody battle for my city, Freetown, that commenced on January 6th, 1999. It is a day I'll never forget. Many years after the war ended, I still woke up perspiring profusely from nightmares of the atrocities I had witnessed. I saw kids with their limbs hacked off by RUF rebels. Some were transported by wheelbarrows, as there was no other option.
I saw a kid no older than five with half her face blown off by fragments from an RPG. Inexplicably, even with her mouth completely shattered, she was still crying out for water. It's an image I'll never erase from my memory.
I saw a young man accused of being a rebel collaborator dig his own grave and be summarily executed by Nigerian soldiers serving with ECOMOG, a regional force brought in to stabilize the volatile situation. I had no idea why I was standing few feet away but I saw it happen.
I saw houses set ablaze and surrounded by rebels threatening to shoot anyone who tried to flee the burning structure.
I stood there helplessly as a rebel combatant slapped and threatened my mother inside our house. So the tears that flowed as I stood inside that monument came from a deep and troubled place. Cities like Stalingrad, Hiroshima, Freetown and Monrovia are reasons why humanity must never allow a third world war to ignite. It will be worse than Doomsday and Armageddon rolled into one.
Little Sierra Leone in big Russia

Samara will always hold a special place in my heart. I had an interview with the governor and asked him about the preparations for the World Cup and what African fans visiting his city should expect.
Samara was also the space capital of the Soviet Union and I was able to see the rocket piloted by Yuri Gagarin, the first man in space.
The reason why Samara will always be special to me is because I was pleasantly surprised to discover that the local football club, Kryila Sovetov, plays in the same colors as the Sierra Leonean flag. It was love at first sight and, needless to say, Kryila Sovetov gained a lifelong fan that day.
At the behest of the governor, I was an official guest at a Kryila Sovetov home game. With my face painted in green, white and blue, and surrounded by thousands of local fans in matching colors, it was definitely a day to remember.
The beauty of religious tolerance
In Kazan, I visited the Kremlin that has a mosque, the Kol Sharif, and a church, the Annunciation Cathedral, standing literally side by side. Such a sight is quite common where I grew up. It was a reminder that we can have different faiths and still coexist peacefully. Russian cuisine is quite different from Chinese or West African food, but I did enjoy my meals in Kazan. I tried horse meat for the first time, which reminded me of and made me miss my mother's sumptuous spicy roast beef.
Russia's Bai Bureh and Sengbe Pieh
Depending on whom you talk to, you may hear differing views about the Cossacks. Some view them as bellicose troublemakers, while others see them as battle-hardened warriors who can be relied upon when the going gets tough. Modern-day Russia came about as a result of many revolutions, wars and other upheavals. Throughout these politically challenging times, the Cossacks have always been in the thick of things. They are fearless warriors who also played a vital role in pushing back the German advance into the Soviet Union during the Second World War.
Throughout history, Sierra Leone has had its own fair share of fearless warriors. Men of valor, like Sengbeh Pieh, who led a revolt on board a Spanish ship carrying slaves in 1839. The revolt succeeded in taking over the ship and setting the other slaves free. This incident is known as the 'Amistad rebellion'. Bai Bureh refused to pay tax to the British colonialists and launched a guerilla campaign against them when they ruled Sierra Leone in 1839. That conflict was dubbed the ' Hut Tax War'.
Another aspect of Cossack life that reminded me of my upbringing was the wooden houses I saw in the Cossack village. I felt completely at home because I grew up in a similar wooden structure.
A Black Sea and the Atlantic Ocean
Sochi is a reminder of how vast the Russian terrain is. I went from freezing just before I got on my flight to being able to walk around in a sweater when I got off the plane. This was November in Russia and Moscow was already covered in ice. Sochi has a different time zone as well.
Another interesting experience was going to the Fisht Mountain, in Sochi, which was covered in ice, and freezing. Once I left the mountain and headed to the city center, the temperature was mild again.
In Sochi, I visited the Winter Olympics museum, saw gloves of Russian goalkeeping great Lev Yashin, and then toured the city's Formula 1 circuit. Sochi reminded me of my hometown Freetown, with its immaculate and picturesque coastline. Sochi is along the Black Sea and Freetown is along the Atlantic Ocean. If I were asked to choose a Russian city to live in, I would definitely choose Sochi without hesitation.
One foot in Europe and another in Asia

I was fortunate to visit all the host venues for the World Cup in 2018. Many of them were quite impressive and some were still under construction when I arrived in November 2017. Of the 12 venues, one really stood out because of its innovation and design.
To make room for more fans, architects at the stadium in Yekaterinburg had cut through the old structure and erected an external stand. They say a picture speaks a thousand words. That holds true in this case. Find a picture of the Yekaterinburg Arena and you will be blown away.
After my trip to the impressive stadium, I navigated my way to a museum displaying items from Ipatiev House. The last members of the Russian monarchy were executed at Ipatiev House in 1918 following the Bolshevik revolution. Replicas of the guns used to execute Emperor Nicholas II and his family are still on display at the museum.
Yekaterinburg is also special for something else. I was able to have one foot in Europe and another foot in Asia simultaneously. That was a pretty cool experience.
An exclave, amber and diamond (Kaliningrad)
I had never been to an exclave until I got to Kaliningrad. Kaliningrad is not within the boundaries of continental Russia but it is a Russian territory. Formerly part of Germany and known as Konigsberg, it was annexed by the Soviet Union after the Second World War, when the Postdam Agreement was signed in 1945 after the defeat of Nazi Germany.
Kaliningrad is renowned for amber, just as Sierra Leone is well known for its diamonds. I visited the amber markets when I was there. I have to confess that I am yet to visit the diamond-rich town of Kono, in my beloved Sierra Leone. I hope that when I do, I will find a diamond to make up for lost time. They say diamonds are forever.
More Photos