Was Francis M. Minah Guilty of Treason? Part 3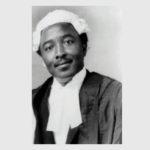 First published July 30, 2001 – Sierra Leone Live
In this four-part article, John L. Musa shows whether or not Francis M.  Minah was guilty of treason for the May 23, 1989 coup
Part 3. Conteh Cross Examines Minah & Kaikai's Coup Speech
THE EVIDENCE OF TREASON AGAINST Minah BEYOND A REASONABLE DOUBT?
On Direct and Cross-Examination of the Treason suspects, Prosecutor Conteh was clumsy.  After reviewing most of the evidence against Minah, it is superfluous to argue a point so clear that he was innocent. The best argument against Minah proceeds from a tenuous allegation that he and others engaged in "preparing and conspiring to overthrow the government by force." This syntax being unclear, Berthen Macauley Sr. asked for an amendment that the suspects engaged "in a conspiracy to commit treason". Was the indictment in fidelity to the rules of the Criminal Procedure Act of 1965?  Not one word. He attempted to link Minah to Kaikai in a treason confederacy because they owned a petrol station together. But it did not go well because Defence counsel Solomon Berewa disposed of the issue by later advising the jury to ignore the inference of complicity in the crime.  He cautioned the jurors that one could be joined in trade and yet not be partners in crime.
Then Prosecutor Conteh attempted to link Minah with Jamil in a wild goose chase as we see in the weak interrogation below:
PROSECUTOR CONTEH: Do you know a man called Jamil?
MINAH: Yes my Lord.
PROSECUTOR CONTEH: How do you know him?
MINAH: He was a businessman who had business concern in the country.
PROSECUTOR CONTEH: Who owns NDMC?
MINAH: Government had the majority share.
PROSECUTOR CONTEH: Do you have any relationship with Jamil Sahid Mohammed in your capacity as 1st Vice President?
MINAH: Yes my Lord. On some occasions, I chaired Cabinet Sub-Committee matters in which he was involved and on other occasions I was a member of committees set up to look into [the] relationship between himself and the Government. (In a reproachful tone, Prosecutor Conteh continued to seek information to tied Minah to Treason).
PROSECUTOR CONTEH: Do you have interest in … his business?
MINAH: No my Lord I have no shares in his business.
PROSECUTOR CONTEH: After the inauguration of President Momoh's did you go to Jamil's house?
MINAH: Yes my Lord. There were certain matters still pending to be discussed with the Presidential Campaign and Inauguration.
PROSECUTOR CONTEH: Do you ever go there alone?
MINAH: No my Lord.
In examining other witnesses, Prosecutor Conteh attempted to place Minah at
Jamil's house on two occasions by the false testimony of Alimamy Conteh. (Minah' security detail). But the Immigration officers testified that Jamil was out of the country at the time.  On the other alleged occasion when Minah was at Jamil's house, Minah was in fact having dinner hosted by the Japanese Counsul in Sierra Leone, Mr. Kishore Shankeredee at the Bintumani Hotel.
This line of disconcerted questioning continued for a while.  What was the point?  Where was the connection of treason by Minah knowing Jamil either personally or otherwise?
Now we must turn to the evidence which Berthen Macauley, Jr. and other defence counsel used in their attempt to exonerate Mr. Minah but failed.   Berthen Macauley, Sr. used the same in the Appeal court but was equally unsuccessful to the detriment of Minah's neck.
EXHIBIT ZZZZQ: Exculpable Evidence of Minah in Treason?
Exhibit ZZZZQ was the taped speech of Kaikai to the Nation. It was the linchpin for convicting Kaikai. Who was GABRIEL MOHAMED TENNYSON KAIKAI?
Gabriel Mohamed Tennyson Kaikai was hanged on October 7, 1989, for spearheading the coup de´tat which was foiled on March 23, 1987.  He designed and master-minded the enterprise to ambush on the weed-choked area of Spur Road and assassinate President Momoh. Prior to his arrest, Kaikai was assistant superintendent at the New England Field Station having been demoted from his rank of superintendent.  Kaikai was the chief security officer and gatekeeper when Siaka P. Stevens occupied State House.  It was he who decided who should see the dictator-king of Sierra Leone.  He was described as a man with a chip on his shoulder with peacock arrogance brazened by power.  Kaikai's stellar position darkened a little when he returned from his studies in Britain. When President Momoh assumed office in 1985, he acquired power in a new position as Chief of the Anti-smuggling Squad.  It is reported that he acquired fame and fortune and his superiors despised his haughtiness.  He was demoted to assistant superintendent of Police and transferred to the New England Police District. Piqued by his demotion, his lot became compounded when his wife, the late Amy Kallon lost her bid for Parliament.  News accounts at the time report that Kaikai, having suffered these setbacks decided that he would not brook any more humiliation.  The indictments against him indicated that he incited his brothers and many others to overthrow president Momoh by ambushing him at Hill Cot Road and killing him. The coup was foiled.  He and 17 others were arrested, tried and with five others he was executed.  During his trial, he implicated Jamil Sahid Mohammed and Siaka P. Stevens.  If the coup were successful, Kaikai would have delivered the following speech to the nation:
KAIKAI'S COUP SPEECH  "Mr. Gabriel Mohamed Kaikai of the Sierra Leone Police Force speaking to you today Monday, March 23rd, 1989.
"Owing to the serious economic problems affecting this country over the years coupled with the nonchalant handling of such problems and other important matters politically affecting the country and its people over those years by the unpatriotic and nepotic APC regimes under the leadership of former president Siaka Stevens and the current president Major-General J. S. Momoh who have been protected in office by selfish senior army and police officers much to the woeful economic and political detriment of the young nation, other ranks of both the army and the police in solidarity to have mercy on trade unionists, workers, petty traders, teachers, students, school children and the unemployed have taken this honourable singular decision to bring down the said unpatriotic APC government of Major-General J. S. Momoh.  The country is henceforth governed by decrees under the council known as National Reformation Council.
"My dear people you can safely call this coup as your coup "the peoples' coup" but it is not intended to protect the members of the forces only, in fact, the arrest of all senior officers by the men and my election by them as your new leader, to indicate to you the manifestation of confidence and cooperation we have had imposed on us all for your belief that it is your government without fearing the soldiers.  This is not, however, a criteria for nonchalant attitudes to bring back to mind those ugly days of your past regimes, but I tell you in strict terms that we mean business with no jokes at all.
"May I hasten to inform you all my dear people that your deposed president Major-Gen J. S. Momoh who a little over a year ago was imposed on this nation by Siaka Stevens in the most unceremonious and undemocratic manner has been killed along with some senior officers in both forces.
"Parliament has been dissolved; the national constitution suspended; the ruling APC party, the sole political party in Sierra Leone, is disbanded along with its constitution with immediate effect.  All government ministers, parliamentarians, senior army and police officers commanding regions, districts and units throughout the country are requested in their own best interest to report to the nearest police stations to surrender themselves.   All chief inspectors and inspectors of police attached to such stations must take police administration until further notice.  Senior army and police officers in the Western area who are still at large are asked to safely conduct themselves to their respective officers mess at Wilberforce and Kingtom Barracks.
"My dear people this is no time for jubilation as I require you all to sit back and seriously think of solutions to retrieve the economy and build up your young nation. The soldiers are not at war with each other or with the police, and in my capacity, as your leader now, I take this opportunity to warn all members of the SSD unit in the country and those soldiers resisting and fighting for the cause of the deposed government and some remaining senior officers still hiding to lay down their arms and surrender themselves peacefully for the good cause of this our country and people.  We do not want to hurt or kill our comrades in solidarity.
"With immediate effect our borders with neighboring sister countries, Guinea and Liberia are closed along with sea and airports with no flights to land or take off from the latter,. Helicopters taking off from hotels or from private homes will be shot down on sight.  At this juncture, I am taking this opportunity to address representative heads of foreign governments in Sierra Leone that the current situation is an internal affair of my country and all rights of this young nation under all international charters must be fully observed by all countries hence no outside interference, please. A dusk to dawn curfew is imposed and all are warned to keep off the streets and cooperate with the army and the police who are your solidarity partners in their mop up operations to bring the situation under control. "Ladies and gentlemen be your own watchdogs in these times to inform us of the whereabouts of government ministers and top party stalwarts and officials including Siaka Stevens, national chairman of the defunct APC party, who have gone into hiding; the best you can do is to surrender yourselves to the men and don't stand up to them. "Members of my ruling council will be named shortly and a police statement outlining the fullest participation of all and sundry to rebuild our nation in every sphere will be read shortly. "I thank you all."
When Defense counsel Solomon Berewa heard the recording of the speech above, he asked whether Minah would have been crazy to serve as vice president under Kaikai if had the coup succeeded.  There was no motive to join Kaikai in a coup that surpassed Minah's glory of being the first Vice President and occupying the office of the Attorney General.  On Appeal, Berthen Macauley who had himself been a treason suspect questioned the notion of Minah joining Kaikai in any conspiracy to overthrow the Government when it was clear from the coup speech above that Kaikai was acting alone in his quest for illegal power and authority.